Children's clothes designer Rachel Riley, known for Prince George's red and white smocked set that he wore to his sister's christening, is one of just many designers choosing to supply new company Mama et Moi, in large part thanks to its luxury bespoke website.

The new company has been set up by Carla Skeites with the e-commerce site launched ready for the anticipated Christmas shopping rush.
Featuring many designer European – particularly Spanish and Portuguese – brands, together with some top British names, Mama et Moi has been designed and built by Torquay based Insignia Creative to appeal to the mid to luxury end of the mother and child boutique market.
"The company has been in the planning stage for a few years," explained Carla. "I've always been interested in fashion and love the European styling.
"I like to see children dressed as children and it's not always easy finding good quality children's clothes on the High Street unless you live in a big city.
"I was recommended Insignia Creative as I wanted a site that reflected the luxury brand that we sell.
So far we've had some great feedback from our suppliers and customers and are getting more interest from brands who like the look and feel of the website."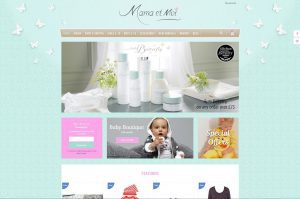 One of the key aims of the site that is proving popular with customers is that it gives people an opportunity to be able to buy quality luxury brands at an affordable price point.
And this together with Carla's aim of giving something back to society is also influencing the brands she has on offer.
"For every three pieces sold, Patachou for example will donate an item of clothing to a child in need in Baja, Mexico.
"This is their social responsibility that we are so happy to help support.
"Pigeon is another brand that knows the exact process of their clothing making sure it is organically processed in all stages whilst making sure the local community and environment are helped."
And although a new site and new business, Carla says more site visitors are finding it through organic search and other marketing she is carrying out – advised by Insignia Creative.
"We've been briefing Carla about search engine optimisation and marketing and are looking at an on-going marketing strategy ready for the New Year," explained Richard Netherclift, Insignia Creative MD.
"Alongside this, we've produced print work for offer cards which can be sent out with orders and printed magazine adverts."
He added: "The site uses the Magento platform that is used by many of the world's leading ecommerce businesses.
"It provides Carla with the professionalism she needs and also is future proofed allowing Mama et Moi to grow as more brands come on board.
"We had to train Carla on the system, how to update the site and general online practices including using PayPal."
Carla added: "I'm absolutely thrilled with the site that Insignia Creative came up with. I'm quite particular but am very pleased we've been able to work together. It's been a very easy process and the site is definitely going in the right direction judging by the feedback we're receiving."
Insignia Creative works with a range of clients such as Dartmouth's Royal Castle Hotel, TJs Restaurant in Paignton and the Dart Harbour Navigation Authority, together with national and international businesses such as Golf Resorts in Portugal and international celebrities