A new website has seen Torquay's The Training Partnership Ltd receive double the number of online enquiries.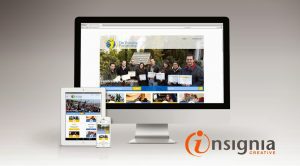 The site, designed and built by Insignia Creative, has been designed to be easy to use for different nationalities, containing numerous graphics, vibrant colours, clear calls to action while being easy to navigate.
"We wanted something that was clear and less wordy than our previous site and easy to understand if it was being read as a second language," explained Nadine Stroud, business development director at TTPL, which specialises in providing work experience for foreign language students. "It says who we are and is very flexible and reactive, working brilliantly on phones and tablets.
"The back end system is very simple to use, we can update the site ourselves as and when we need to."
And she explained how Insignia Creative was chosen.
"We decided to go with a local company so we could have constant contact and be able to call upon at short notice," said Nadine. "Insignia was always available and accessible.
"We've already seen an uptake in the number of enquiries received through the website."
The website is split into four main sections, each dedicated to different aspects of TTPL with its own navigational structure and information pertinent to the relevant reader set.
The site uses the Expression Engine content management system allowing TTPL access to all areas to update information, imagery and videos and PDF documents to be linked to each relevant page of information. In addition links in to TTPL's social network channels.
"The main website design draws heavily from TTPL's brand colours and all imagery is carefully chosen again to reflect the particular area of the site being viewed," explained Richard Netherclift, Insignia Creative MD. "We worked alongside Astley Media who created the initial website brief as well as Nadine and other TTPL staff to create a pleasing and more professional website which would not only help attract students but also host families, partners and companies."
Nadine added: "We've very happy with Insignia and what they've done. We gave them a very short time frame for the website and set dates we wanted to stick to."